Custom forms have arrived!
Asking parents and participants to fill in forms is a form of communication. And since communication is at the core of Activity Messenger's business, it is only natural to give you powerful forms management. Today I'm proud to announce that Custom Forms have arrived to Activity Messenger.
Many of you have already been using liability waivers with electronic signature to capture consent. Especially related to the assumption of risks related COVID-19. You've asked me to give you more flexibility by adding extra fields. With Custom Forms, you now have the full power to create:
Registration forms
Surveys
Daily Screening Checklists (COVID-19)
Liability waivers
etc
Standard fields
Waivers and Custom Forms now allow you to specify which standard fields to use. Standard fields cater to sport & leisure and schools. These are:
Respondent name, gender, date of birth, email, mobile, other phone and address
Child name, gender and date of birth
Other guardian/parent name, email and mobile
Event or activity name
Checkbox to allow respondent to opt-out of marketing communication (email and text message)
Capture an electronic signature
Fields can be toggled on, be made optional or required.
Standard fields appear like this to respondents: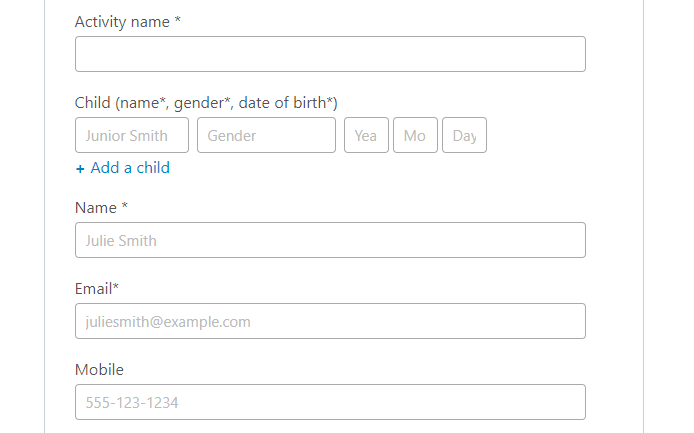 Extra questions
If you need to ask more questions, you can add extra questions in the Terms and text section. Placeholders are available to insert these types of fields:
Required or optional checkboxes
Required or optional free text inputs
Radio buttons
For example here we have an optiona text input, a pair of radio buttons and a required checkbox.
Extra question placeholders render like this in your form:
Shout out to Alberta Gymnastics clubs for their help in building forms. And to Nicole from Summit Academy for helping me adapt forms to school needs. Should you wish to have more features in forms, please reach out. I'm here to help!
--Martin
Don't yet have Activity Messenger? Get started today and get 200 free SMS messages or 20,000 emails.