If you run Online Classes on Zoom, you most likely save video recordings to send to participants afterwards. Parents can replay the Online Class later to keep their youngsters busy while they cook dinner.
Activity Messenger now connects to Zoom, and automatically transfers Zoom cloud recordings to Your videos. If you record locally, you can upload them after.
Activity Messenger also offers new video processing tools. You can clip a video and add a watermark of your logo.
When your recordings are ready, you can send them by SMS or email.
Connecting Zoom to Activity Messenger
Go to the Zoom settings page and click on Connect. You will be redirected to Zoom to approve the connection.
Zoom Cloud Recordings
Activity Messenger can automatically retrieve Zoom cloud recordings a few minutes after the meeting ends. If you toggled on that options, video files get copied over to Your videos. They become available to send out by SMS or email.
You can then delete the video recording in Zoom to free up cloud storage for future recordings.
Uploading Video Recordings Manually
If you've recorded videos locally on your computer, Activity Messenger allows you to upload the video manually. You get more options to set on the video:
Name
Description
Date/time of recording
In addition you can:
Clip the idle time at the start of the video
Add a watermark of your logo
You can always open an existing video and change its name, description and time of recording.
Post Processing Videos
Often there is idle time at the begining of a video. Activity Messenger allows you to clip that time. Open an existing video and click on Clip video. Drag the time cursor of the video and click on Apply. A new shortened video will be generated.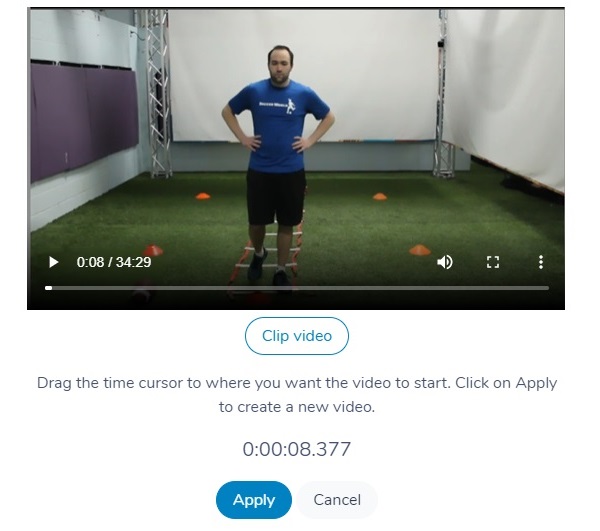 I hope these features help you to run Online Classes on Zoom in a more efficient way. Coming soon is the ability to create Zoom meetings directly from Activity Messenger. Reply to this message if you are interested.
--Martin
Don't yet have Activity Messenger? Get started today and get 200 free SMS messages or 20,000 emails.