8- Skill Tracking & Certificates
As swimmers progress, it is important to keep track of their achievements. With Activity Messenger, you can log skills and milestones, and automatically update parents and students on their progress and when they're ready for the next challenge.
A data-driven strategy not only helps improve athletes' performance levels, but also boosts their morale by clearly demonstrating their developmental milestones. In the competitive world of gymnastics, such precision in training can give a club an edge.
Streamlined Skill Management
Activity Messenger's skill tracking tool does away with the old-school method of spreadsheets and paper records. It provides a straightforward system for coaches and staff to log and manage skill progression.
The interface is designed for ease of use and allows skills to be organized by various categories, such as level or age, to perfectly match the needs of your swim school's progression charts.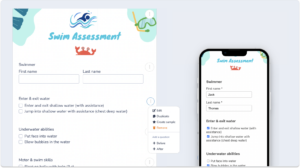 Instant Updates and Alerts
Activity Messenger makes skill tracking a breeze and eliminates outdated tracking methods. The platform's intuitive design allows coaches and administrators to update skill performance in real time.
It also provides instant notifications to keep everyone informed of a swimmer's improvements and areas of focus.
Personalized Achievement Certificates
Upon achieving new milestones, athletes can be awarded customizable certificates, which can be created with a personal flair using our Canva integration to reflect your swim school's brand.
How to create bulk certificates for your swim school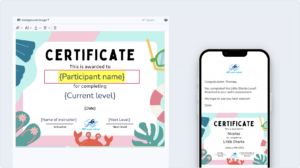 These certificates can be conveniently distributed, either printed for physical award ceremonies or sent electronically through email or SMS, accommodating everyone's preference