3 things to consider before selecting (or changing) your registration platform
When choosing or switching your registration platform, there are 3 critical factors to consider to ensure it meets your business needs.
1) Simplify your enrollment process (especially on mobile)
Scrolling through endless class options on a tiny mobile screen is no fun. It's like a maze with no cheese at the end. We've seen people just give up and walk away (aka lost revenue).
Yet most online registration platforms still present your customers with an endless list of all your classes.
They were designed for a time when everyone registered from their desktop.
But it doesn't have to be that way.
With modern class management software, you can give your customers a personalized experience, just as you would if they were registering over the phone.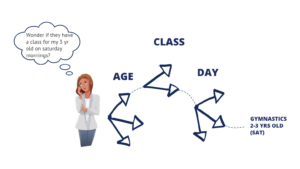 📌 Pro Tip: When designing a registration path, we always consider the questions a client would ask if they were registering over the phone and then recreate that flow as the registration process
2) How many extra tools will you need?
I've been where you are—jumping between apps, losing track of data, and wasting valuable time. That's why we created Activity Messenger. It's more than just a registration platform; it's your all-in-one toolkit for running your business smoothly.
We're not just about replacing Mailchimp, SurveyMonkey, Eventbrite, and SmartWaiver. Our clients rave about being able to see everything—from registrations to waivers to email blasts—in one unified dashboard. It's like having a command center for your business without the hefty price tag.
Jackrabbit and IclassPro also understand the importance of these other tools. In fact, they both wrote a blog article (article 2) about it. But they expect you to pay extra, learn another tool (SurveyMonkey) and not have everything in the same place.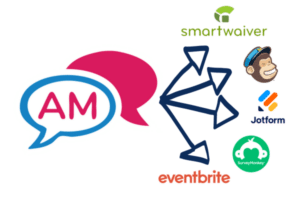 📌 Pro Tip: Moving from MailChimp to Activity Messenger allowed our kids sports business to improve our marketing efforts by sending outreach based on participants registration status.
3) Ability to create custom workflows (take you out of the equation)
You deserve a registration platform that actually allows you to get back to doing what you love.
No more broken promises.
Activity Messenger helps you translate your business rules into scalable workflows.
So you can make sure your customers get the right information at the right time, while freeing up your time.
It's like having an extra employee to automate all those repetitive tasks that no one has time to do.
📌 Pro Tip: When designing workflows, include all the touch points (sms or email) needed yo improve your clients experience. A well-drafted workflow allows you to automate communications at the right time based on registrations, party booking, free trials etc.