How to send Canva templates via SMS or email
Step 1: Finalize Your Canva Design
Once you've designed your email template in Canva through Activity Messenger's integrated platform, make sure to save your work. Your design will automatically be stored within Activity Messenger, ready for sending.
Step 2: Navigate to the Messaging Dashboard
Then, click on the "Send" button within Activity Messenger. This will take you to the messaging dashboard, which is the control center for all your communication needs.
Step 3: Choose Your Communication Channel
Here's where the magic happens. On the messaging dashboard, you'll see options to send your message via SMS, email, or both. If you opt for SMS, Activity Messenger will automatically convert your email template into a link that recipients will be able to open that will link to a mobile-friendly format, ensuring that your design retains its visual appeal on smaller screens.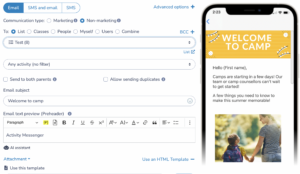 Step 4: Select Your Recipient List
Activity Messenger allows you to select from pre-existing lists of contacts or create a new list specifically for this communication. This is particularly useful for targeted messaging, such as sending reminders for specific classes or events.
Step 5: Preview and Test
Before you hit that final "Send" button, always preview your message. Activity Messenger offers a preview feature that lets you see exactly how your message will appear to recipients. You can also send a test message to yourself to ensure everything looks perfect.
Step 6: Schedule or Send
You have two options here: send the message immediately or schedule it for a later time. If you're working with automations, you can set the message to go out a specific number of days before an event or activity starts. This is a fantastic way to automate reminders and ensure timely delivery.
Step 7: Track and Analyze
You can monitor open rates for emails and click-through rates for both SMS and emails. This data is invaluable for understanding the effectiveness of your communications and making data-driven decisions for future campaigns.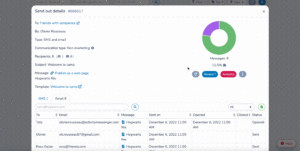 📌 Pro Tip: The ability to track open rate had allowed my and I, to re-send important emails to people who have not engaged with it but switching to SMS to ensure they get the crucial information such as a cancelled class or rescheduling.