#8: Stop Bossing And Start Leading
Whether it was vacuuming the floors, cleaning toilets, doing renovations, working spreadsheets, or handling customers over the phone, when it came to running my sports facility alongside my co-owner, we did it all. 
No job or task was "beneath us." 
You may hear business "experts" tout all sorts of cliche terms such as: "work on your business, not in your business." 
I'm telling you that this doesn't apply very well to small businesses with a tight crew; especially one that is filled with hungry Gen Z staff. 
If you want to get the absolute best out of your staff, you are going to have to show that you are "with them" in the trenches. Take a look at the timeless image below; it illustrates our point better than our ability with words every could.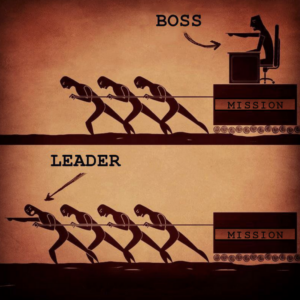 It's why when I visit gyms to run Staff Training clinics, I pick on the gym owners during group activities and get them involved. Not only because I know they will enjoy it, but I know it sets the right precedent with their younger staff… who are very much paying attention!
Now, this doesn't mean you should refrain from hiring out your weaknesses and wear 15 hats when you don't have to.
It doesn't mean you should hold back from increasing your staffing crew to do less important jobs so you can focus on growing the business.
And it also doesn't mean that you need to stop being a "boss" – especially when it's time to make boss-level decisions. 
It just means that every once in a while, you get your hands dirty with stuff that they know a boss doesn't need to do, but does it anyway.
It means you stay grounded and don't put yourself on some pedestal. 
That's the difference. 
And just in case you have doubts or don't quite believe us, we challenge you to ask all of your staff members to read point #8 and see if they agree.
If you've made it this far into the article, we sincerely hope these eight tips will help you retain your amazing crew and bring them closer together to achieve big things. 
Oh and be sure to click the button below to schedule a Free demo to see how Activity Messenger can help you run your organization with more efficiency, increase revenue and claim back hours of your time every week! 
PRO TIP: If you've got retention nailed down but having trouble actually finding these young, hungry and qualified candidates for your business, then be sure to check out our previous article: Hiring Young Talent: Proven Tips to Attract Gen Z Employees For Part-Time Positions